Farmer Cheese - White Cheese - Twarog (Quark)
Farmer's cheese- Twarog
A fresh, acid set semi soft cheese. Twarog's curdled texture makes it a featured component for various appetizers, salads, sandwiches, or desserts.
While the possibilities are endless for it's use, in Polish culture it is used most often for pierogi, leniwe pierogi dumplings, or cheesecakes.
Package weight, approximately 1.0 lb.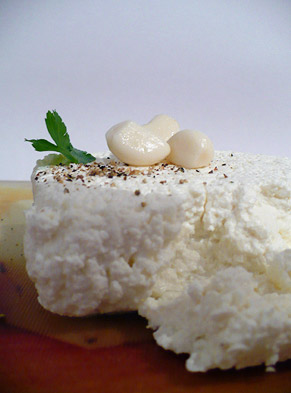 Polish curd cheese decorated with garlic, leaves and pepper.
Polish curd cheese - twaróg, tvarog or white cheese
Traditional Polish cheese, called twaróg or tvarog, and also known as white cheese ('bialy ser' in Polish; sometimes also: ser twarogowy) is one of the most loved by Poles, and on the other hand, one of the most original. It is difficult to find exactly the same flavor anywhere else in the world. Although we usually translate Polish twarog into curd cheese, this is not the same curd cheese you may know. It does not taste similar to the popular cottage cheese either. Actually, in U.S. twarog is much more like what you call a 'farmer's cheese', than curd or cottage cheese.
Twarog has a special texture. At first glance you may think that it resembles common yellow cheese but after a closer look, it appears that this one is much more soft and juicy. The taste is in fact slightly tart, but that's the greatest charm of white cheese. Level of tart flavor depends of the preparation time (longer = more tart), since the milk is leavened and it got thick.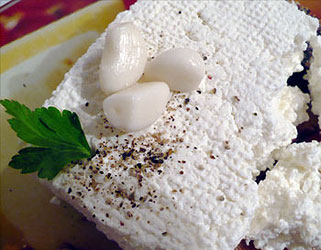 Polish twarog is made from cow milk, belongs to the so-called 'fresh' cheeses group. Unsurprisingly it has a white color, elastic consistency and lumpy structure. Just like with a Coke, Polish producers try to be up to date and offer few kinds of white cheese differing in fat content. Twarog cheese production is based on a so-called acidification of milk. Then, process involves gradual heating (without reaching the boiling point), and cooling followed by straining.
Most often twarog in Poland is sold in a form of little blocks, just like the one on the photo below. 'Półtłusty' means that twarog has been partially skimmed. Fully skimmed twarog is called 'chudy' (thin), while non-skimmed natural one is labeled 'tłusty' (fat).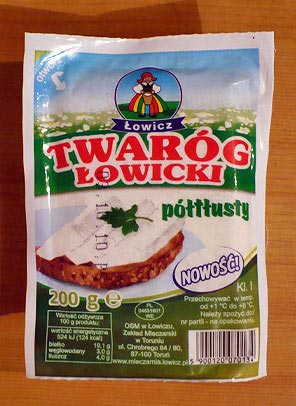 Making twarozek from Polish twarog
As usually in old cuisines, some traditional, basic foods and ingredients are omnipotent and quite universal. The same is with Polish white cheese, which is widely used as a basic ingredient of many Polish appetizers and simple foods.
Above all Polish twarog is used to prepare popular Polish appetizer called twarozek. All you need to do is to mix the cheese with sparseness of spices and some chopped vegetables - most often onion, radish, and/or cucumber. Generally speaking chives are also considered to be an essential element of twarozek - giving not only the taste, but also an aesthetic charm :) To facilitate mixing and to be sure that we get a uniform consistency a little bit of cream or yoghurt is usually added. You should season your snack with some salt and black pepper (or any other favorite spices), and be ready to gorge yourself with this great Polish food - directly from a bowl or after spreading on bread or a roll. Twarozek is one of quite popular Polish breakfasts - very straight food, easy to make (2-3 minutes), and not only tasty, but also healthy and nourishing. This is one of my breakfasts with twarozek, kabanosy, and black tea: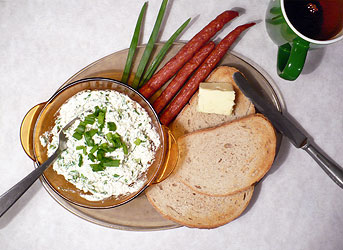 Twarog as a sweet ingredient in Polish cuisine
Another way of eating twarog is to make it sweet. This is absolutely not less important than spicy-vegetable twarozek! I tell you that with full responsibility - especially since I'm great sweets & desserts lover. Hence, it is possible (and recommended:) to sweeten farmer's cheese to obtain a wonderful ingredient of one of some Polish desserts. The number of the combinations and applications is reasonable - let me describe three or four most notable.
The first thing, and probably most important one, is a sweetened white cheese as a basic element of Polish cheesecake, called 'sernik' in Poland. I frankly recommend this dessert, if you would ever have an opportunity to try - do not hesitate. Usually vanilla sugar is used as an addition. Raisins are added too. Baking cheese in high temperature changes its structure and the taste more delicate (no tart aftertaste). Polish cheesecake is a real delicacy.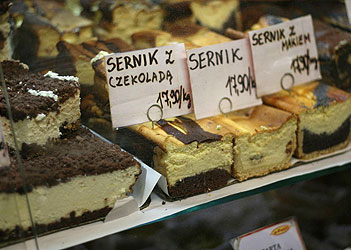 Cheesecakes in Polish grocery: chocolate, poppy and pure.
(photo by douglemoine)
Similar application is using twarog to make crepes (very popular in Poland) and sweet pierogi. Pierogi with sweet curd cheese are probably quite well known for most of you (of course there are also these spicy ones, with curd cheese, onion and potato filling, called ruthenian pierogi in Poland). Sweet cheese crepes are made analogously. Usually refried after filling with white cheese and poured with something tasty (e.g. fruit or chocolate sauce, or some sweet cream).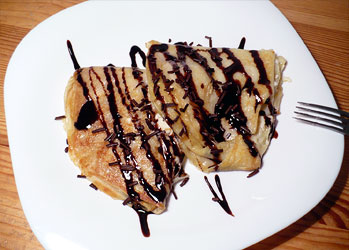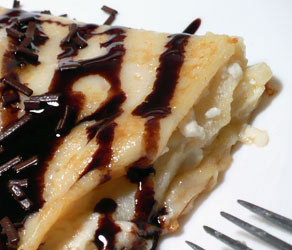 Crepes (nalesniki) with sweet white cheese.
One other, completely simple way to make a dessert out from twarog is to simply sweeten it and use to make sandwiches. Put some favorite jam or powidlo on it to make this simple food even more delicious: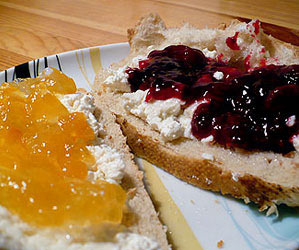 I won't be original now but have to add, that the same sweetened farmer's cheese can be served with pasta instead of bread. Poles call this dish 'kluski z serem'. On the picture below I have additionally used some brown sugar to sprinkle this food: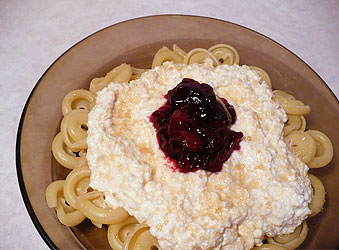 Pasta with a curd cheese mixed with cream and sugar,
sprinkled with brown sugar and decorated with a morello cherry jam.
Smacznego! :)
Source of this article : www.tastingpoland.com
Shipping Cost:
Calculated at Checkout
Reviews
Hide Reviews
Twarog
Excellent twarog! Perfect for my leniwe Pirogi and Nalesniki. It made our Wigilia complete.
Farmers cheese
It has been a long time since I cooked with my mom in her kitchen making Pierogi. The Cheese was as I remember my mother using when she made Pierogi back in Detroit.
Just as I remember
I bought this cheese for my pierogi and it was just like what my mother-in-law used to use when she made them. I haven't had this good a cheese in years. I will definitely buy it again.